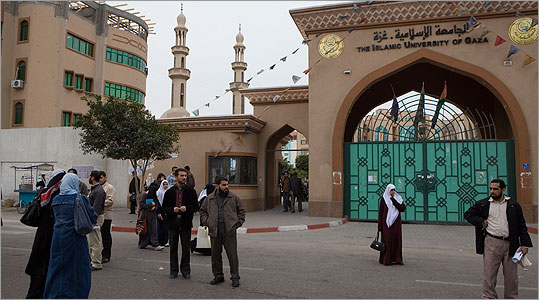 GAZA – Behind the arabesque arches of the five-story university library here, students occupy every available seat, cramming for finals in their humanities classes. Outside, a lucky few nap beneath palm and ficus trees on the cramped urban campus. At lunch, engineering students balance their books upright in the cafeteria and absent-mindedly munch subsidized falafel. This is exam period at the Islamic University of Gaza, charged with the bustle and anxiety of college life.
The first sign that this is a different place from the Western universities it resembles comes when a bell rings in the library. Quickly the students on odd-numbered floors – all men – gather their books and file into the stairwells. Women file in to take their turn. In keeping with a puritanical interpretation of Islamic law, men and women aren't allowed to study together, so they switch floors every two hours. They lounge in separate student unions and eat in separate cafeterias. At intervals during the day, the call to prayer sounds from the minarets of the campus mosque, and classes come to a halt.
Their strict observance might sound extreme, but the Islamic University is no fringe institution: It's the top university in Gaza. The majority of students here study secular topics; not all of them are even religious. If you want to get a degree in Gaza, a territory that is home to more than a million people, it's simply the best place to go.
At the same time, the university is something else again: the brain trust and engine room of Hamas, the Islamist movement that governs Gaza and has been a standard-bearer in the renaissance of radical Islamist militant politics across the Middle East. Thinkers here generate the big ideas that have driven Hamas to power; they have written treatises on Islamic governance, warfare, and justice that serve as the blueprints for the movement's political and militant platforms. And the university's goal is even more radical and ambitious than that of Hamas itself, an organization devoted primarily to war against Israel and the pursuit of political power. Its mission is to Islamicize society at every level, with a focus on Gaza but aspirations to influence the entire Islamic world.
In recent decades, as Islamism has grown from a set of isolated radical movements to a fully realized political philosophy, its powerful fusion of intellect, pragmatism, and fundamentalist faith has refashioned societies from the Gulf to Turkey, Egypt to Pakistan. For outsiders who want to understand its power and appeal, the Islamic University of Gaza is probably the best place to begin.
When the Islamic University was founded in 1978, there wasn't a single institution of higher education in the Gaza Strip. Its founders were members of the militant Muslim Brotherhood, believers that society should be organized according to Koranic principles, and they conceived the university as a sort of greenhouse for their brand of pure, uncompromising Islamism. At the time, Gaza was a freewheeling resort city, its seaside restaurants full of visiting Israelis and Egyptians attracted by Gaza's famous grilled fish. Secular Palestinians dominated society and the power structure in the 1970s, and scoffed at the prospect of Islamists making inroads. Read the rest of the story in The Boston Globe's Sunday Ideas section…