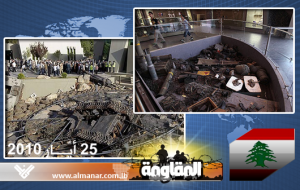 Lebanon's Party of God opened a museum last month in the village of Mlita. I haven't visited it yet, but I've seen lots of Hezbollah's temporary annual exhibitions, which are similar but on a smaller scale. The Mlita Museum appears to raise Hezbollah's culture (or cult) of resistance and martyrdom yet another level.
Don Duncan has just posted an excellent short video on The Wall Street Journal's website. The four-minute clip seems to give a good sense of the Mlita museum, which opened on May 23, on the tenth anniversary of Israel's withdrawal from the zone it occupied in southern Lebanon.
From inside a 600-foot-long tunnel, visitors can peer through glass at some of Hezbollah's former underground hideouts. The fortifications were closely guarded secrets until recently, and key to some of Hezbollah's recent operations, including its fight with Israel in a brief 2006 war along the southern border.

To manage the new museum and other planned sites, Hezbollah is creating its own museum department, adding to its other divisions, which include radio and TV stations.

"It shows that the resistance is more stable," said Muhammad Kawtharani, director of Hezbollah's arts foundation and a spokesman for the Mlita museum project. "You're seeing a secret that is a secret no more."
The sprawling permanent museum appears to mark another step on Hezbollah's march to institutionalize its "Society of Islamic Resistance." Hezbollah's resourceful approach to guerilla warfare and propaganda have allowed it to nimbly adapt to changing circumstances, but as its power and reach have expanded, so too has its tendency to create static state-like structures.
The Los Angeles Times had a piece in May when the museum first opened, and Hezbollah put up a piece on Al Manar's website extolling the Mlita complex. Al Manar's language captures the flavor of  Hezbollah public relations and propaganda:
"Mlita is full of sacrifices and memories that led to the achievement of the final victory," Adnan Ibrahim Sammour, one of the engineers in charge of the project, told Al Manar … "This is the new Middle East, the real new Middle East that we have always dreamt of." …

Mlita is a first step in the long struggle of writing down the Resistance's history, a shining history that cannot be summarized with words, pictures, or even experiences…