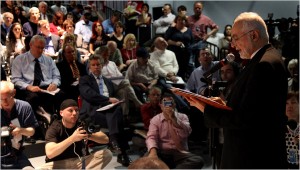 I've spent much of the last week covering the Park51 story from the Arab world. The entire affair has attracted far less attention in the Islamic world than one might expect. We put together a story that canvassed global reaction in today's Times.
If the project's organizers move the site, or cancel it altogether, I'd expect stronger opinions than we've seen so far. Same if there's a major shift in public opinion, or a spate of violent attacks, or nastier rhetoric than we've seen so far.
For more than two decades, Abdelhamid Shaari has been lobbying a succession of governments in Milan for permission to build a mosque for his congregants — any mosque at all, in any location.

For now, he leads Friday Prayer in a stadium normally used for rock concerts. When sites were proposed for mosques in Padua and Bologna, Italy, a few years ago, opponents from the anti-immigrant Northern League paraded pigs around them. The projects were canceled.

In that light, the furor over the precise location of Park51, the proposed Islamic community center in Lower Manhattan, looks to Mr. Shaari like something to aspire to. "At least in America," Mr. Shaari said, "there's a debate."

Across the world, the bruising struggle over an Islamic center near ground zero has elicited some unexpected reactions.

For many in Europe, where much more bitter struggles have taken place over bans on facial veils in France and minarets in Switzerland, America's fight over Park51 seems small fry, essentially a zoning spat in a culture war.

But others, especially in countries with nothing similar to the constitutional separation of church and state, find it puzzling that there is any controversy at all. In most Muslim nations, the state not only determines where mosques are built, but what the clerics inside can say.

The one constant expressed, regardless of geography, is that even though many in the United States have framed the future of the community center as a pivotal referendum on the core issues of religion, tolerance and free speech, those outside its borders see the debate as a confirmation of their pre-existing feelings about the country, whether good or bad.