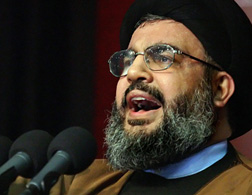 Christopher Hitchens on Slate laments Hezbollah's renaissance in Lebanon. He blames two main factors: Israel's "crass intervention in Lebanon in 2006," and the United States unwilligness to take an interest in Lebanon. To his list I'd add a few other reasons: the absence of a coherent and compelling alternative to the "Axis of Resistance"; massive corruption and/or incompetence among so-called moderates; and the puzzling failure of non-militant movements to use religion to mobilize mass support.
Very kindly, Hitchens also mentions A Privilege to Die:
A depressingly excellent book on the contours of that new reality is provided by Thanassis Cambanis. A Privilege To Die lays out the near-brilliant way in which Hezbollah manages to be both the party of the downtrodden and the puppet of two of the area's most retrograde dictatorships. Visiting Beirut not long after Hezbollah had been exposed as an accomplice to Syria and as the party that had brought Israel's devastating reprisals upon the innocent, I was impressed, despite myself, by the discipline and enthusiasm of one of Nasrallah's rallies in the south of the city. Cambanis shows how the trick is pulled. With what you might call its "soft" power, the Party of God rebuilds the shattered slums, provides welfare and education, and recruits the children into its version of a Boy Scout movement, this time dedicated to martyrdom and revenge. With its "hard" power, it provides constant reminders of what can happen to anyone who looks askance at its achievements. Its savvy use of media provides a continual menu of thrilling racial and religious hatred against the Jews. And its front-line status on Israel's northern frontier allows it to insult all "moderate" regimes as poltroons and castrati unwilling to sacrifice to restore Arab and Muslim honor. Many Sunni Arabs hate and detest Hezbollah, but none fail to fear and thus to respect it, which Nasrallah correctly regards as the main thing.