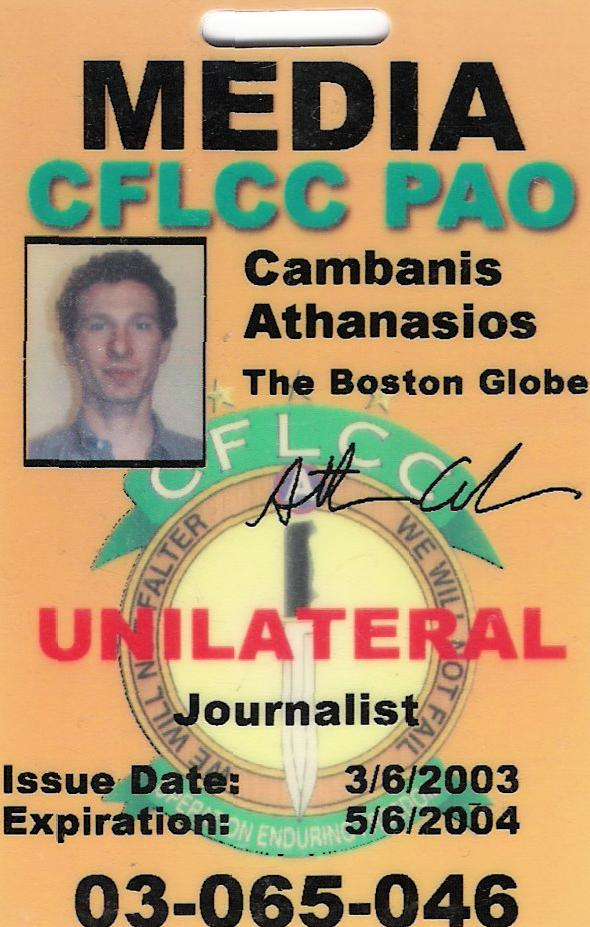 I was cleaning out my office ahead of the New Year, and I found the press badge that the US military issued me in Kuwait in 2003. Just a few weeks before the invasion of Iraq, the military press office (known during that phase of the war as the CFLCC PAO) accredited more than a thousand journalists. Lots were embedding for the invasion, but plenty more of us were operating on our own. We still needed badges to deal with the ubiquitous military.
The spokesman's office organized sessions to plan how to bring unembedded journalists to the site of the WMD he expected to be discovered. In other ways, too, the flacks were planning ahead for a long slog in Iraq: my accreditation lasted more than a year, through May 2004.
The terminology, though, still makes me laugh — the unwitting sense of humor of the acronym-happy bureaucrats who brought us hits like the quickly discarded "Operation Iraqi Liberation." America was suffering global recriminations for eschewing allies and multilateral institutions in its march to war. With no apparent trace of irony the military's public affairs department borrowed the term being flung at the US government by angry critics, and applied it to the reporters who had chosen not to embed: we were "unilateral journalists." To this day it's my favorite title I've ever earned.