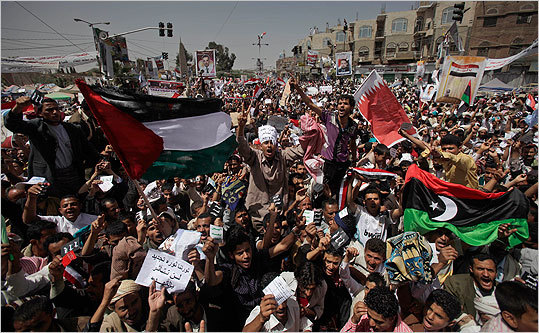 An obsession with "stability" — and an erroneous, narrow definition of the term — has warped American foreign policy, especially in the Middle East. Washington's struggle to adjust to the rapid transformation of the region in part reflects a calcified mindset that for decades had to account for little change. Now, with the Arab political landscape barely recognizable, American policymakers are trying to adjust quickly. Imagine, American client regimes toppling one by one, while absolute monarchies in the Gulf are taking part in military interventions to unseat one dictator in Libya while propping up another in Bahrain. Some people will argue that all this turmoil amounts to an even stronger argument for stability; I'd say events suggest the opposite. That's the subject of my latest Internationalist column in The Boston Globe.
America's main goals in the Middle East have remained constant at least since the Carter years: We want a region in which oil flows as freely as possible, Israel is protected, and citizens enjoy basic human rights — or at least aren't so unhappy that they begin to attack our interests.

In working toward these goals, the byword and the cornerstone of the entire venture has been stability. Washington has invested heavily — with money, weapons, and political cover — to guarantee the stability of supposedly friendly regimes in places like Egypt, Saudi Arabia, and Jordan. The idea is simple: A regime, even a distasteful and autocratic one, is more likely to help America, and even to treat its own people with a modicum of decency, if it doesn't feel threatened. Instability creates insecurity, the thinking goes, and insecurity breeds danger.

But the unrest and dramatic changes of the past months are offering a very different lesson. An overemphasis on stability — and, perhaps, an erroneous definition of what "stability" even is — has begun harming, rather than helping, American interests in several current crisis spots. Our desire to keep a naval base in a stable Bahrain, for example, has allied us with the marginalized and increasingly radical Bahraini royal family, and even led us to acquiesce to a Saudi Arabian invasion of the tiny island to quell protests last month. To keep Syria stable, American policy has largely deferred to the existing Assad regime, supporting one of the nastiest despots in the region even as his troops have fired live ammunition at unarmed protesters. In a moral sense, this "stability first" policy has been putting America on the wrong side of the democratic transitions in one Arab country after another. And in the contest for pure influence, it is the more flexible approaches of other nations that seem to be gaining ground in such a fast-changing environment. If we're serious about our goals in the Middle East, "stability" is looking less and less like the right way to achieve them.

Foreign policy shifts slowly, and it's hard to replace such a familiar, if flawed, approach to the world. But recent events have strengthened the ranks of thinkers who argue that there may be more effective and less costly ways to press our interests in the Middle East. We could take an arm's length approach, allowing that not every turn of the screw in the Middle East amounts to a core national interest for the United States — in effect, abstaining from some of the region's conflicts so we have more credibility when we do intervene. We could embrace a more dynamic slate of alliances that allows the United States to shift its support as regimes evolve or decay. Finally, we could redefine stability entirely and downgrade it as a priority, so that we recognize its value as simply one of many avenues toward achieving US interests.

Read the rest in The Boston Globe.