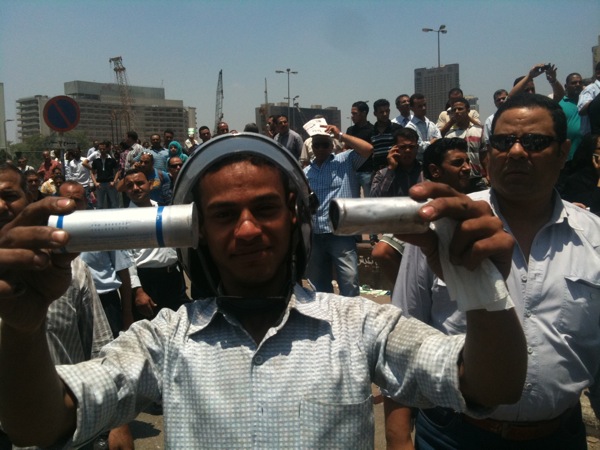 I returned to Egypt on Tuesday, escaping the tear gas and riots in Athens for the Cairene edition. I followed the parallel clashes on Twitter, and then headed out to Tahrir. The scene felt different than in February — a somewhat hard to parse mix of earnest protesters, activists, disenfranchised Egyptians, thugs, and soccer hooligans. As I tried to interview the father of a martyr from January, a pair of middle-aged men confronted me, with a mix of bullying, menace and manhandling that I've come to associate with regime figures or their henchmen. "How do we know you're not a Jew?" one of them demanded. He had white hair and wore a light blue suit. With prompting from the crowd that assembled he demanded my Egyptian press card, which he grabbed, crumpled up, and stuffed in his pocket. After some shoving and shouting, he resolved to present me to the police — obviously, he said, I was a spy and not a journalist. (You can see him in the middle of the group pictured here; I snapped this with my iPhone while the citizens brigade contemplated what to do with me.)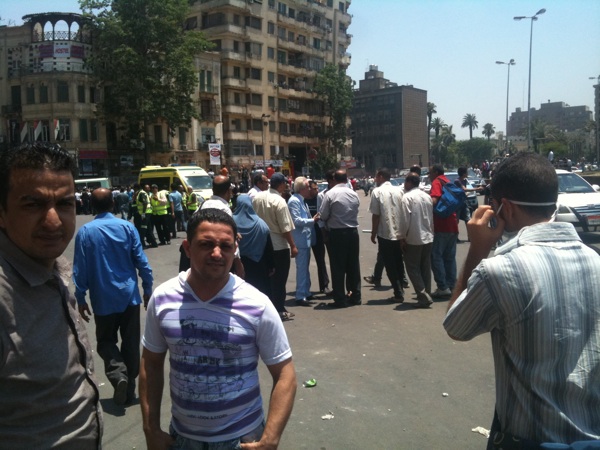 The police officers at Marouf Street were unimpressed. They sent the man and his small mob on their way, and after a short time, the duty officer turned to me. "Imshee," he said, "leave"* — one of the chants the crowds in Tahrir used to direct at Hosni Mubarak when he still was president.
You can read more detail about the day in my dispatch at The Atlantic.
CAIRO, Egypt — The city is combustible. On Tuesday night, seemingly out of nowhere, fighting engulfed Cairo at a pitch not seen since the Days of Rage in January and February that forced President Hosni Mubarak to resign.

A group of families had gathered in another neighborhood to celebrate the martyrs killed during the revolution; no one knows who organized the event and who attended. No one knows exactly what happened next either — just that police tangled with the families, who then decided to march on the Ministry of the Interior in downtown Cairo. After nightfall, the fighting took on a momentum of its own. Hundreds of demonstrators massed at the interior ministry and later in Tahrir Square. Riot police shot tear gas and, according to protesters, rubber bullets. Demonstrators threw rocks and Molotov cocktails. The fighting surged on throughout the night, unabated.

By noon on Wednesday, several thousands of demonstrators were still battling the riot police. Reinforcements had arrived, including 20 ambulances. The fighting raged on Mohammed Mahmoud, the spur street off the southern end of Tahrir Square leading to the interior ministry. Men on ambulances ferried the hundreds of wounded back to the ambulances. The sting of tear gas stretched half a mile from the clashes, enveloping the entire square. Helpful men offered vinegar and Kleenex to alleviate the pain of inhaling the gas.

I was eager to talk to some of the martyrs' families, find out how the whole melee began, and see how they felt it would affect their cause. Men and women huddled in knots, ignoring the tear gas, arguing about whether these clashes would undermine the revolution by alienating a wider Egyptian public that is tiring of protests. None of them were relatives of martyrs. Many of them were wary.

"I've been in Tahrir since January 25, and a lot of the faces I see out here today are not the usual faces," said a 27-year-old accountant named Mahmoud. "A lot of them look like thugs."
*In the original post, I had incorrectly written "emsha" for "imshee."