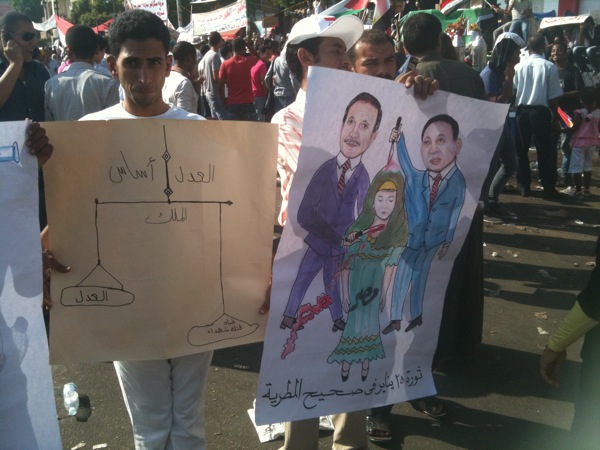 CAIRO, Egypt — Friday's "Day of Determination" (or "Day of Persistence") continued overnight and into Saturday as a sit-in in Tahrir Square. It was the largest since President Hosni Mubarak stepped down, and it marked a sort of inflection point for the popular uprising that began on January 25.
For the first time since mid-February, the crowd filled the entire square, and drew scores of regular folk who wouldn't normally define themselves as political activists. The demonstration swelled to revolutionary size, to a large extent, because its organizers consciously eschewed politics.  Instead they resorted to a lowest-common denominator appeal to prosecute Hosni Mubarak and his henchmen. Justice for the crimes of the past, and for the crimes that continue, including police brutality, unaccountable government, and military detentions of protesters. Two words echoed above all: justice, and revenge.
That simple call galvanized the protest, although to some was its Achilles heel.
"The blood of the martyrs won't be wasted," the crowds chanted. Protesters carried pictures of Hosni Mubarak hanging from a noose (a common motif, also stenciled on walls around Tahrir).
A performer named Waleed Sheikh held a Mubarak marionette wearing the traditional red Egyptian death row suit, a star of David on the front. "I am manipulating him like he used to manipulate us!" Waleed said as he made the Mubarak doll dance, to the wild applause of onlookers.
Many of those in crowd said they hadn't joined a protest since February, but were galvanized by the ruling junta's foot-dragging on trials for Mubarak cronies and on police reform.
"I thought the government would be purified after the revolution," said chemist Mahmoud Fathy, 29. "They are trying to outsmart the revolution, to outwait us and change nothing."