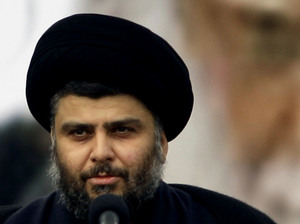 Kelly McEvers has a story on NPR about Moqtada Sadr's methods; he seems to be borrowing directly from Hezbollah's playbook, and I discuss in an interview with Kelly all the potential for power and long-term pitfalls Hezbollah's approach entails.
At a recent press conference, Iraq's minister of planning, Ali Youssef al-Shukri, stepped to the podium, gave a brief and somber blessing, and announced the issue of the day: a new mechanism for quality control of imports to Iraq.

Shukri spoke softly and wore a pressed suit. The former academic has spent time in the United States, on a State Department program for international leaders. One could hardly guess that he belongs to the party of Muqtada al-Sadr, the Shiite cleric best known for fierce battles against U.S. troops during the war and violent threats against the American presence in Iraq that continue today.

Analysts say the planning minister is the new face of Sadr's party, which now holds 40 out of 325 seats in Iraq's Parliament. They say Sadr is following in the footsteps of other Islamist groups in the region — namely, Lebanon's Hezbollah.

Remaking a militant group's image starts with recruiting middle-class technocrats into the party's ranks, says Thanassis Cambanis, author of A Privilege to Die: Inside Hezbollah's Legions and Their Endless War Against Israel.

With Hezbollah, "militants, fighters and ideologues who were leading the party would be happy to assign an obscure dentist or biochemical professor to an important portfolio in Parliament or in the government — if that person could do a better job," he says. "This lack of ego was a big part of their success."

It's a success Cambanis says Sadr hopes to copy. If, say, Iraq's Planning Ministry can show it's combating corruption by controlling imports, then the people will continue voting for Sadr's party.