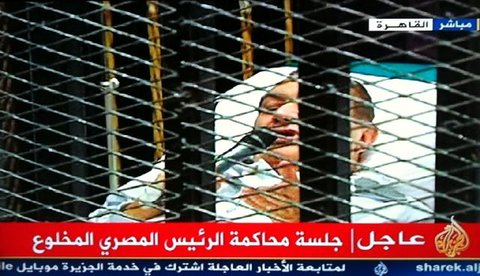 Lots of good copy out of Cairo on the opening day of Mubarak's trial. What a sight! The indispensible leader on a hospital bed, in a cage, flanked by his sons and six of his top cops. Anthony Shadid captures the scene gracefully (and his set-up piece is also worth reading).
WNYC's The Takeaway had me on this morning to talk about the trial; you can listen here.
UPDATE:
WBUR's Here & Now talked to Mahmoud Salem (author of the Sandmonkey blog) and then me at noon Eastern time, mainly about the prospect and peril of Egypt's revolution turning to violence.