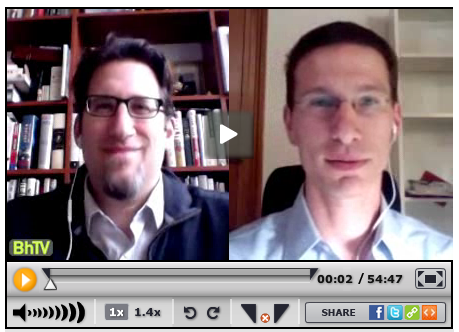 My first foray onto Bloggingheads TV, with fellow TCF fellow Michael Cohen. Michael thinks COIN is "claptrap"; I think it was a decent idea taken too far. We're both starting our discussion with a read of Fred Kaplan's book The Insurgents, and our own long-standing argument about what went wrong in Iraq (and our mostly shared view of what went wrong in Afghanistan).
If you watch, you can hear in the background my kids apparently trying to tear down our house, directly upstairs from my head.
BONUS: CROWD-SOURCED TECH HELP? For some reason, I can't figure out how to embed the video here. When I paste the embed code from BhTV in the post on WordPress, it just leaves the code as is. Any suggestions?
<embed type="application/x-shockwave-flash" src="http://static.bloggingheads.tv/ramon/_live/players/player_v5.2-licensed.swf" flashvars="diavlogid=15077&file=http://bloggingheads.tv/playlist.php/15077/00:00/54:47&config=http://static.bloggingheads.tv/ramon/_live/files/2012/offsite_config.xml&topics=false" height="288″ width="380″ allowscriptaccess="always" id="bhtv15077″ name="bhtv15077″></embed>