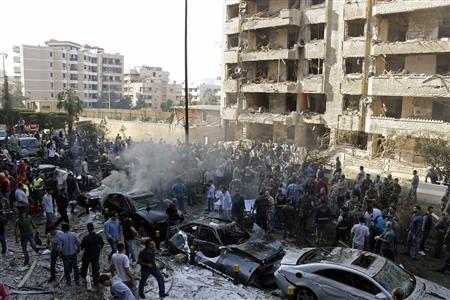 REUTERS PHOTO
After today's bombing at the Iranian embassy in Beirut, how much should we worry that the war in Syria will engulf Lebanon? First, the usual caveat: I live here, and I have a vested interest Lebanon remaining viable and stable, so discount my analysis accordingly.
Nonetheless, nothing so far has changed my fundamental view that the major players in Lebanon want to preserve the existing order here, as combustible as it is. The attackers presumably come from the jihadist strain of the Syrian opposition; they have little invested in the Lebanese status quo and are willing to upend it.  But the major actors with organizations in Lebanon, including the Sunnis who support the Syrian rebels, as well as the Hezbollah constituents who support the Syrian government, benefit from the truce in Lebanon. Beirut especially serves as a neutral area where all parties communicate with each other, raise funds, and do their political work.
Iran's immediate accusation of Israel supports this view: if Iran wanted to raise tensions, it would point at jihadists or Lebanese factions allied with the Syrian opposition. Instead, it pointed at Israel (just like Hezbollah did after the Dahieh bombing in August), a convenient and unifying enemy. Blaming Israel is a calming gesture; even if Hezbollah and Iran suspect a local or Syrian Sunni network, it deflates tension to pin the attack on Israel. And if Iran genuinely has evidence or believes Israel is responsible, that's all the better insofar as it minimizes the risk of hostilities taking root beyond Syria's borders.
In coming weeks, we should watch the rhetoric of Hassan Nasrallah; if he repeats his previous positions on the Syrian war, as I expect, that will signify that Hezbollah maintains its interest in a calm Lebanon. We also should watch the retaliation; small attacks against centers of jihadist activity would remain with the limited framework that, again, minimizes the chance of escalation.
Today's attack is certainly a worrisome development, since the apparent suicide bombers struck a diplomatic target. It will increase anxiety among all people in Lebanon, and will especially worry the civilians living in the Dahieh, who already suffered an indiscriminate attack in August that killed 20 people and wounded more than 100. These are not good things. But they don't guarantee that war will engulf Lebanon either. For that to happen, the established parties here – in particular Hezbollah and the Future Movement – would have to radically change their cost-benefit analysis. So far, I don't see that happening. Lebanon's future holds more simmering violence, like the back and forth bombings, assassinations, and occasional skirmishes we've seen so far in the Bekaa, Tripoli and Beirut; but not, I expect, outright conflict.