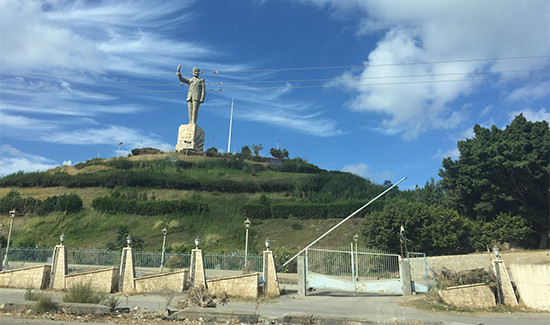 I visited government-held Syria in October at a pivotal moment, gaining a rare glimpse into the part of the country still controlled by President Bashar al-Assad. The Century Foundation, where I am a fellow, asked about my impressions.
Q: What timing—the week you arrived, Russia unleashed its new military campaign. How did that change the outlook of the people you spoke with?
A: Russia came up in almost every conversation I had, whether with officials, fighters, or regular citizens. The war has dragged on for nearly five years, and whatever they claim, most people in Syria understand that it's a stalemate that neither side is likely to win outright. For people living in government-controlled Syria, the Russian intervention has—for now—lifted the sense of fatalism. With Russia boldly on Bashar al-Assad's side, the thinking goes, maybe the Syrian government can win outright. That's created a palpable wave of optimism. Many people in the coastal cities of Tartus and Latakia told me they thought the war would now end within a year.
Q: Do you think it can end so quickly?
A: I doubt it. Russia's move has completely shifted the geopolitics of foreign intervention and imposed new constraints on the United States and its allies. But most of the Syrians fighting against the government consider themselves patriots and are fighting on their own home ground. Contrary to Syrian government propaganda, which paints the rebels as foreign fighters and mercenaries, most of them are actually locals who prefer to die rather than surrender. Even if the government can defeat them with the massive push it has received from Russia and Iran, it will take a long time—probably two to five years—before they can reconquer the main rebel strongholds. And the buoyancy among government supporters (or even those who just want the conflict to come to any sort of end) will fade when they see that the rebels fight back, and that foreign interventionists on the rebel side can keep the fight going for a long time just by maintaining supplies of money, ammunition, and weapons.
Q: You had not visited Syria since 2007. What were the biggest differences that you noticed?
Government-controlled Syria feels beleaguered and utterly militarized. Assad's Syria was always a heavy-handed police state, with intelligence agents everywhere and a huge web of agencies that detained people, tortured them, and kept them in fear. Today, the government has lost a great deal of its resources, holding maybe one-third of the country's territory and controlling half or less of its remaining population. Yet, it retains its old heavy-handed style, and the displaced people living in the government areas are terrified of saying anything that might be construed as subversive.
Damascus is a beautiful city, and it was clean and well-run in 2007. For all the shortages today, it's still functioning, but there are constant power cuts and real shortages of personnel and certain imported goods. There are checkpoints everywhere, and most of the men under 40 are either in uniform or are off-duty fighters.
Q: What was most on people's minds?
A: In addition to the Russians, almost everyone I met openly talked about emigrating. They were either saving up to take a smuggler's boat to Europe, didn't have enough money but were desperate to raise it, or had considered it and postponed their decision point because of family reasons. Some said outright that they saw no future in Syria even if and when the war resolves. "It will take ten years to end the war, and god knows how long afterward to restore the country," one pro-government militiaman told me. Most the people who have either left Syria this summer or plan on leaving are young, with careers ahead of them, or have children for whom they see no prospects inside Syria. Many of the people who have remained in Syria by choice retain the option to flee anytime because they have money or a second a passport, or they already have sent their children abroad and have remained in Syria because of their jobs or businesses. Antique dealers in Old Damascus would ask me if I thought it was a good idea for them to sell their shops at fire-sale prices to smuggle their kids to Europe. Off-duty soldiers driving taxis at night asked me how much it costs to get from the island of Lesbos to Germany. Getting out is the ubiquitous fixation, more even than what will happen in the war.
Q: Why were you able to visit Syria now? How closely were you monitored?
A: The government slightly opened the door over the summer to Western reporters. Perhaps they think they have a good story to tell now, about a government that is secular and protects minority rights defending itself against rebels whose strongest contingent is dominated by Islamic fundamentalists. Maybe they're newly confident that they're winning, with the support of their allies and the absence of meaningful American action.
When I traveled outside Damascus, a government official from the ministry of information accompanied us on our interviews. Sometimes there were also minders from the military or intelligence services, although some were vague about their affiliations. After working hours, I was free to move around Damascus unfettered.
Q: What's the most important thing Americans should know about government-held Syria?
A: That's a tough question because there is a lot that is important to know but impossible to assess, such as how deep the support for the government runs among the remaining population. But two key points surfaced again and again on this trip. First, Assad's government has not changed any of its fundamental ways, in terms of how it runs the country, stifles dissent, and is completely uninterested in changing the nature of its system. And second, many Syrians who don't particularly care for Assad's way of running the country, who in fact fear the president, also fear the rebels on the other side, whose vision they find sectarian, intolerant or even nihilist. That middle ground of public opinion is still not free to speak on the regime side, but they could hold the key to a future Syria that reflects something freer and less corrupt than Assad's government, and at the same time less sectarian and extreme than the jihadists on the opposition side. The war in Syria, sadly, looks like it might go on for another decade.