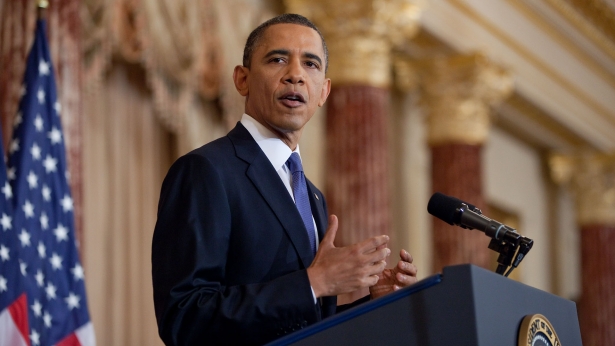 Obama's speech was not all the rage in Cairo today. Many of the youth activists I know weren't even planning to watch the speech. The US embassy organized a viewing party in a downtown hotel ballroom, drawing just over a hundred Egyptians.
"It's a little late, but I think Obama is finally trying to get on the right side of history," said Heba Ghannam, who pays her rent working as a corporate marketer but exercises her passion for politics by tweeting, as she did throughout the speech.
As far as Egypt is concerned, Heba wants one thing from Washington: pressure on the Egyptian army to back out of politics rather than consolidate a "soft dictatorship." Nothing in the speech convinced her that Obama planned to put muscular American pressure on the generals who still run Egypt.
With this crowd, the president had only two applause lines (which I discussed today on Here & Now with Fawaz Gerges). His declaration that the United States would forgive a democratizing Egypt's debts drew tepid clapping. His endorsement of Palestinian borders based on the 1967 line sparked thunderous noise and catcalls.
After a few seconds, though, the crowd returned to its staid, if mildly cheerful, pose.
"No surprises. I liked the tone," said Nagham Osman, a 30-year-old film director.
An embassy worker standing in the back of the room nodded with satisfaction, following the running commentary of his friends on his smart phone.
"Nothing is guaranteed," he said with a shrug. "We need to see actions."
Last week I got to Egypt, where I'll be based for the rest of the month, covering the Arab world for The New York Times. I'll cross-post my stories here. All ideas and suggestions are welcome.