Libyan exile Shahrazad Kablan was teaching school in Cincinnati when the uprising against Col. Muammar el-Qaddafi began in her hometown, Benghazi. She put her house on the market and within weeks had moved to Qatar, where she hosted a taboo-busting show on the pro-rebel Libya TV.
On Wednesday night she was in Manhattan, drumming up support among women's rights activists for the long slog ahead as Libya rebuilds.
"We need help," Ms. Kablan said. "I want people to remember that Libya is a story of hope, but we need the international community to play its part."
Ms. Kablan had joined another Libyan diaspora activist, Sara Maziq, and New York Times reporter Anne Barnard (who is married to the author of this blog post) to discuss the role of Libyan women after Colonel Qaddafi's ouster. During the uprising, women used their clandestine nongovernmental organization networks to smuggle weapons to rebel fighters and pass intelligence. Ms. Barnard's reporting on Libyan women activists drew the attention of advocates in the United States, who organized Wednesday's symposium in New York.
"The idea is to connect people who can bring attention to the cause and offer technical help," said Jill Iscol, the philanthropist who hosted the meeting in her Fifth Avenue apartment. Ms. Iscol, a longtime patron of women's causes, is the author of "Hearts on Fire," a book scheduled to be published in November about social activism.
During the uprising, Ms. Kablan used her show to openly probe topics that normally went unmentioned in public forums, like systematic rape by Qaddafi fighters. Since then, she has been advising Libya's National Transitional Council on education reform. Her small, mostly self-funded nonprofit already has recruited dozens of American teachers willing to spend next summer in Libya working with special needs children.
Ms. Maziq, a former investment banker, quit her job in Dubai to devote herself full-time to Colonel Qaddafi's overthrow. She helped supply communications equipment to fighters in Misurata, her home city, and since the liberation of Tripoli her Libyan Civil Society Organization has been working to open women's centers around the country.
"Most of us dug deep in our pockets. Now we're tapped out," Ms. Maziq said.
Ms. Iscol's meeting, organized in tandem with the Vital Voices Global Partnership, a nonprofit organization that promotes women leaders around the world, sparked some immediate connections.
An officer at a New York foundation volunteered to connect Ms. Maziq and Ms. Kablan with women judges and legal experts who could provide advice to Libyans drafting a new constitution; they agreed to meet the following day. A former prosecutor and a foundation head both offered support for programs helping victims of sexual violence. An official at the American mission to the United Nations invited the Libyans to give a presentation. A Dutch diplomat said his government had money available for women's activists in Libya.
Ms. Kablan and Ms. Maziq are headed to Libya again in the next month. If they can raise enough funds, both hope to expand the fledgling nonprofits they currently run with support from friends and family.
"Libya has no infrastructure," Ms. Maziq said. "People tell me, 'We've done what we know how to do. Now, you need to come back and rebuild our country.'"
Thursday morning Ms. Kablan was woken up by a text message from a friend in Libya: Colonel Qaddafi, according to early reports, finally had been captured.
Still in her nightgown, Ms. Kablan smiled and restrained a shout of joy.
"We really needed this," Ms. Kablan said as she read the latest news on her laptop. "This is a great boost for us."
(Originally published on the The New York Times At War blog.)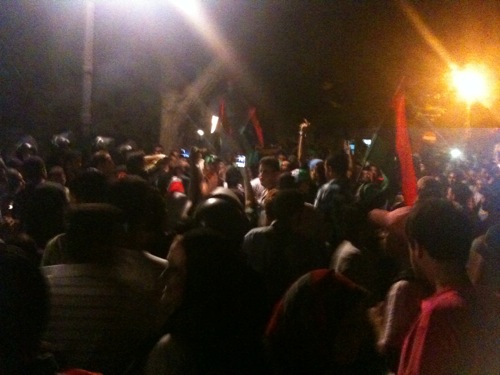 A trio of wounded Libyan rebels hobbled down the street, one wearing an eyepatch, another lurching on his crutches. A woman wearing a full niqab had pinned a Libyan flag to her face. Exiled Libyan activists – many of whom had fled Tripoli just months earlier – rejoiced at the news of the capture of two of Qaddhafi's sons. It was a few hours before dawn on Monday, and a few thousand Libyans had surrounded their embassy in Cairo to celebrate the fall of Tripoli, joined by a smattering of Egyptians.
Rakha Dahan, a 28-year-old make-up artist, had gotten a phone call from her mother in Tripoli informing her that rebels had reached their neighborhood. She rushed out with her infant daughter, but not before applying copious amounts of gold glitter to her cheeks. Dahan's three brothers are fighting in Libya, as is her husband. Her father is working with the rebels in the western mountains. "We are a crazy family," she said. "You can imagine how my mother feels."
Fireworks and bottle rockets made deafening noise in the narrow streets of Zamalek around the embassy. Egyptian riot police formed a cordon, but dissipated when they realized the demonstrators had no intention of storming the building.
Usama Mahfouz Al-Saha, a prosecutor from Tripoli, strode over to think a trio of Egyptian activists. "Without you, we never would have made it," he said, shaking their hands warmly. "The revolutions in Tunis and Egypt gave us the push, the feeling that we can do the same and have change in our country."
One of the Egyptians, Amr Shebl, was beside himself; he'd been checking Twitter, watching television and updating his Facebook feed all night to get his fix of Libya news. "The smell of freedom is awesome," he said. "I'm having the same feeling I had the day Mubarak stepped down."
Al-Saha, the Libyan prosecutor, exuded satisfaction but also worry. He said he had planned anti-Qaddhafi demonstrations early in the uprising, and had fled to Egypt with his family when a friend in government warned him his arrest was imminent.
The tribal rivalary unleashed during the civil war could persist, Al-Saha said, but most of all he feared the bitter disputes that will begin after Qaddhafi is gone and Libyans try to reclaim property seized over the last 42 years by the state or by Qaddhafi loyalists. "This will cause chaos in the country," Al-Saha said, as his fellow Libyans chanted and danced around him. "It will take years to sort out."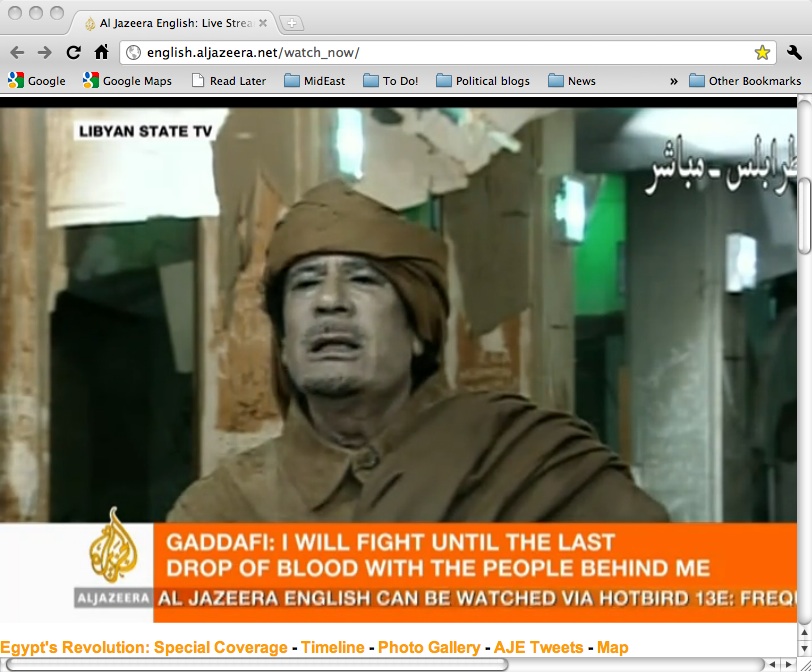 Watching Qaddafi on Al Jazeera right now – like watching Mubarak in Tahrir Square – was like peering down a sinkhole into a previous century. In this hallucination, men from another time, dressed in fashions long discarded, declaim in a wooden language that no longer has any purchase on our psyche. They don't realize the disconnect. History has moved on. They are blaming provocateurs, satellite television, foreign plots, the Al Qaeda bogeyman. It's madness! The delusion would be hilarious were it not so lethal.
"If you don't follow Qaddafi who will you follow?" he says. "Someone with a  beard?"