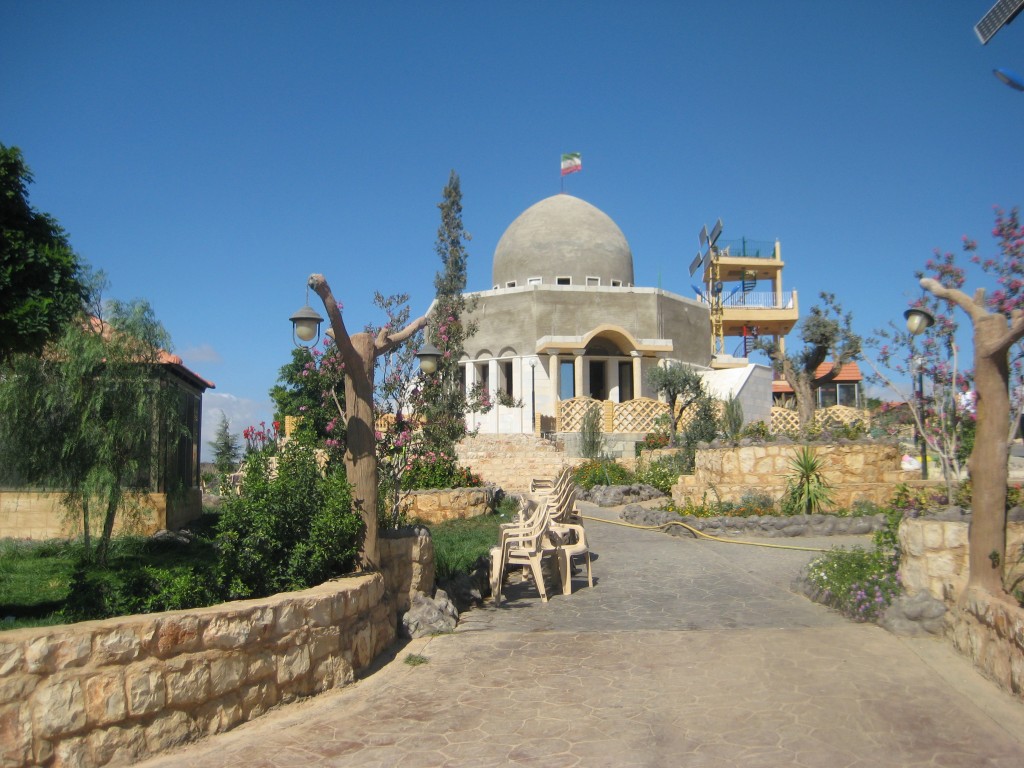 For as long as I've been covering this region, there have been some Israeli officials who describe Hezbollah as a crack division of the Iranian Revolutionary Guard and conclude that Iran has literally surrounded Israel.
In the war of rhetoric and symbols, Iran appears only too happy to oblige.
This weekend I visited "Iran Park" in Maroun Al Ras, the Lebanese border village where one of the first and nastiest engagements of the 2006 war was fought. Israeli ground troops got bogged down for days on the ridge at Maroun, and Hezbollah fighters consider it one of their finer engagements of the war.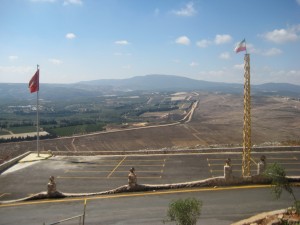 The Iranian government has funded and designed a lush park near the site of the battle, on the mountainside directly overlooking Israel. In the parking, visitors can stand at an observation point beside an Iranian flag fluttering in the wind, and look directly down at the Israeli hamlets of Avivim and Yir'on.
Through an arcade of ponsiana trees and an arch, past a commemorative plaque crediting President Mahmoud Ahmedinejad with gifting the park to the Lebanese, visitors find terraced playgrounds and picnic spots refreshed with the mountain breeze.
There's soft-serve ice-cream trucks, grills, and replica of the Haram al-Sharif in Jerusalem – naturally, topped with an Iranian flag as well. Presumably, Israelis down in the valley can look up and see the Iranian flags and the replica Jerusalem mosque.
Along the path, detailed placards provided educational information about Iran – its population, its provinces, the neighborhoods of Tehran, and so on.
On Sunday mourning the park was already nearly full by 10 a.m. with families that had come to enjoy the cooler temperatures of Jabal Amal.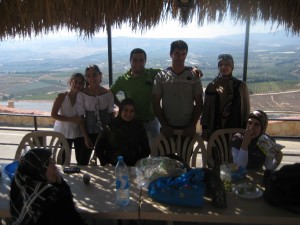 Three families from the humid coast had assembled under one of the palm-frond roof picnic stations, setting in for a long day grilling and eating.
"Coffee?" said Jihan Muselmani, 35.
"We come here for the clean air," said Najua Khanafer, 52. "We thank all those who work for our land. Sayed Hassan, Iran, Qatar."
"This will be the first place the Israelis destroy during the next war," said Jihan.
"Even if they destroy it, we will build it up again," said Rabab Haidar, 28.
"If you won't have coffee, you must at least try these apples," Jihan insisted, clutching a plastic tub of tiny green fruit. "They come from our own tree."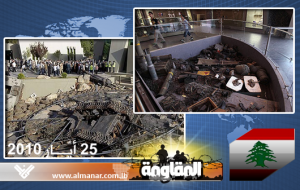 Lebanon's Party of God opened a museum last month in the village of Mlita. I haven't visited it yet, but I've seen lots of Hezbollah's temporary annual exhibitions, which are similar but on a smaller scale. The Mlita Museum appears to raise Hezbollah's culture (or cult) of resistance and martyrdom yet another level.
Don Duncan has just posted an excellent short video on The Wall Street Journal's website. The four-minute clip seems to give a good sense of the Mlita museum, which opened on May 23, on the tenth anniversary of Israel's withdrawal from the zone it occupied in southern Lebanon.
From inside a 600-foot-long tunnel, visitors can peer through glass at some of Hezbollah's former underground hideouts. The fortifications were closely guarded secrets until recently, and key to some of Hezbollah's recent operations, including its fight with Israel in a brief 2006 war along the southern border.

To manage the new museum and other planned sites, Hezbollah is creating its own museum department, adding to its other divisions, which include radio and TV stations.

"It shows that the resistance is more stable," said Muhammad Kawtharani, director of Hezbollah's arts foundation and a spokesman for the Mlita museum project. "You're seeing a secret that is a secret no more."
The sprawling permanent museum appears to mark another step on Hezbollah's march to institutionalize its "Society of Islamic Resistance." Hezbollah's resourceful approach to guerilla warfare and propaganda have allowed it to nimbly adapt to changing circumstances, but as its power and reach have expanded, so too has its tendency to create static state-like structures.
The Los Angeles Times had a piece in May when the museum first opened, and Hezbollah put up a piece on Al Manar's website extolling the Mlita complex. Al Manar's language captures the flavor of  Hezbollah public relations and propaganda:
"Mlita is full of sacrifices and memories that led to the achievement of the final victory," Adnan Ibrahim Sammour, one of the engineers in charge of the project, told Al Manar … "This is the new Middle East, the real new Middle East that we have always dreamt of." …

Mlita is a first step in the long struggle of writing down the Resistance's history, a shining history that cannot be summarized with words, pictures, or even experiences…