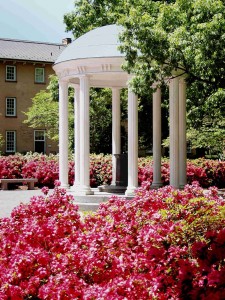 No, not that kind of homecoming.
I'm returning to my old stomping grounds this week to visit my mother and while I'm at it, to talk about Hezbollah in Chapel Hill, Durham and Fearrington Village. These appearances complete a circle.
The last time I was in Chapel Hill as a working journalist was in 1996, as editor of The Daily Tar Heel, muckraking about developers, the BCC, the mayor's race, NIMBY soccer moms, and "town-gown relations" (who came up with that horrifying cliche?).
Now I'm back doing the same thing, at somewhat greater length and I hope with a sharper capacity to entertain. The subjects aren't all that different: Islamism, guerilla war, Middle Eastern politics, NIMBY soccer moms, and "Arab-Israeli relations."
7 p.m., Thursday, Oct. 7, Flyleaf Bookshop, Chapel Hill.
7 p.m., Friday, Oct. 8, Regulator Bookshop, Durham.
11 a.m., Saturday, Oct. 9, McIntyre's Fine Books, Fearrington Village.