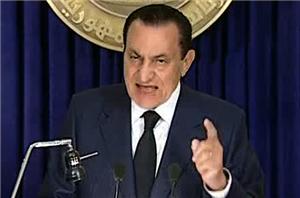 Mubarak's speech tonight eerily evoked the tone of Iraqi Baathists in the spring of 2003. Even after Saddam had fled and American troops had occupied Iraq, I met Baathists in Baghdad who spoke to me with supreme confidence about their natural role running Iraq. They had no doubt that they would remain in charge, one way or another. It took them years to realize how much their nation had changed – and that the Iraqi people didn't want to be ruled by some reconstituted version of Saddam's regime.
I don't mean to compare Saddam to Mubarak, only to point out the parallels in the process of regime detachment, teetering, and imminent implosion. It's possible that Mubarak's advisers have shielded him from an accurate assessment of the events of the last week, and that he has a distorted picture of the size of the crowds, their sentiment, and the dim reputation of the Egyptian state among its own people.
For three decades, Mubarak has successfully convinced some of Egypt's elites, and much of the West, that the only choice lay between his dictatorship and Islamic fundamentalists. Mubarak offered continuity and cooperation for the United States, but little else, since Egypt under NDP rule shrank in every indicator (political influence, economic growth, regional influence). The other option in this belabored formulation was a violent, extremist Islamist Egypt ruled by the likes of Ayman Zawahiri.
In reality, however, there was no political space in Egypt whatsoever beyond the platform the regime accorded itself and its organs. The Muslim Brotherhood and the officially sanctioned opposition were only able to function in public within the limited confines permitted by the regime. Consequently, their political development was stymied.
Right now, political space has opened for the first time. The loudest voices within it come from unknown Egyptians, and not from the activists and cadres who have toiled for years in the state-sanctioned opposition. Their preferences are little understood, and perhaps not yet fully developed. They want Mubarak gone, and they seem to want his coterie out as well. They want some form of accountability. Beyond that, we have no idea if they're interested in forming new political movements and ideologies, or whether they will forge a new way in Arab politics, some platform of ideas distinct from Islamism and secular statist autocracy. If they do, we can guess it will sound less friendly to Washington and Israel than Mubarak's regime did, and we can also guess it might have a more religious and populist tone. Beyond that, though, there's little yet to suggest what real representative politics will sound like, or what kind of government might take shape, or what its foreign policy might be.
There is reason to believe, however, that a post-Mubarak and post-Days of Rage Egypt might be able to deliver some improvement in living conditions, morale and perhaps regional leadership to the Egyptian people — if only by dint of trying. And so far, there's no reason to expect that the mass of protesters, and the inchoate political realm coalescing in its wake, will agitate for war and instability. They seem bent on living better than they have under Mubarak's rule, not on recreating the 1960s and 1970s.