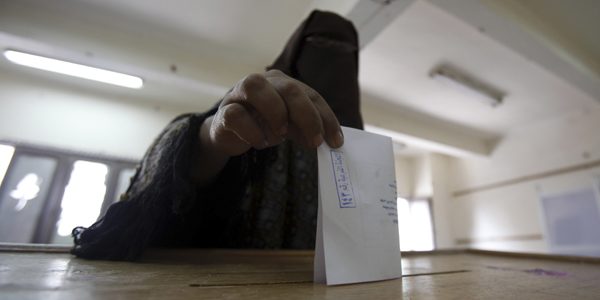 A veiled woman casts her vote during the second day of the parliamentary run-off elections at a polling station in Cairo. Photo: Reuters
CAIRO, Egypt — Egypt's liberals have been apoplectic over the early results from the recent elections here. Everybody expected the Islamists to do well and for the liberals to be at a disadvantage. But nobody — perhaps with the exception of the Salafis — expected the outcome to be as lopsided as it has been so far. Exceeding all predictions, Islamists seem to be winning about two-thirds of the vote. Even more surprising, the radical and inexperienced Salafists are winning about a quarter of all votes, while the more staid and conservative Muslim Brotherhood is polling at about 40 percent.
The saga is unfolding against a political backdrop of alarmism. One can almost hear the shrill cries echoing in unison from Cairo bar-hoppers and Washington analysts: "The Islamists are coming!" In short order, they fear, the Islamists will ban alcohol, blow up the sphinx, force burqas on women, and declare war on Israel.
Before we all worry too much, however, and before fundamentalists in Egypt start to crack the champagne (in their case perhaps literally, with crowbars), it's worth taking a look at what's really happening with Egypt's Islamists.
Egypt is still not a democracy, so election results mean only a little; the key players in shaping the country remain the military, the Muslim Brotherhood, and the plutocrats. To a lesser degree, revolutionary youth, liberals, and former ruling party stakeholders will have some input. The new powers-that-be in Egypt and other Arab states who are trying to break the shackles of autocracy are likely to be more religious, socially conservative, and unfriendly to the rhetoric of the United States and Israel. That doesn't mean they'll be warmongers, or that they'll refuse to work with Washington, or even Jerusalem, on areas of common interest.
Islamism has been on the rise throughout the Arab and Islamic world for nearly a century and will probably set the political tone going forward. The immediate future will feature a debate among competing interpretations of Islamic politics, rather than a struggle between religious and secular parties.