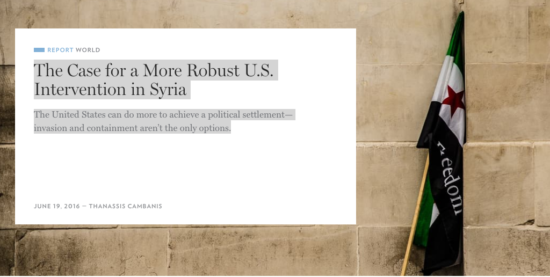 [Policy brief for The Century Foundation]
The United States can do more to achieve a political settlement—invasion and containment aren't the only options.
• In its sixth year of war, Syria has reached a breaking point. Soon its remaining institutions will collapse and Syria will be a failed state. The United States has pushed hard for a diplomatic solution and intervened militarily on the side of rebel groups, but stopped short of action that could shift the conflict's momentum. Meanwhile, Russia has intervened decisively on the Syrian government's side.
• The human toll of the war has been catastrophic. Nearly half a million people have been killed and half the country's population displaced, including 5 million refugees. War crimes are endemic. Civilians routinely suffer starvation, sieges, torture, extrajudicial detention and indiscriminate bombardment.
• Preserving Syria is a vital national security interest for the United States. If it doesn't do more now, America and its allies will suffer even more of the consequences of an imploded state in the heart of the Middle East: jihadi attacks from the Islamic State and its ilk, a global refugee crisis, and violent militancy seeping deeper into every country on Syria's borders.
• A robust U.S. intervention would expand Washington's existing approach, which integrates humanitarian aid, diplomacy and military force, but needs much more of each to succeed. Washington should use military force to protect vetted opposition groups and curtail war crimes committed by the government in Damascus.
• Now might present a final opportunity. Russia and the United States have a rare overlap of interests. Syria's war won't have any neat outcomes; this conflict can only be managed, not won. A robust intervention will not bring an immediate end to the war, but could set the stage for an eventual political settlement. 
• A forceful U.S. escalation now can preserve American interests and credibility and curb the worst excesses of the current violence, giving Syria a fighting chance of emerging from its civil war with intact institutions and a government that can represent every major group.