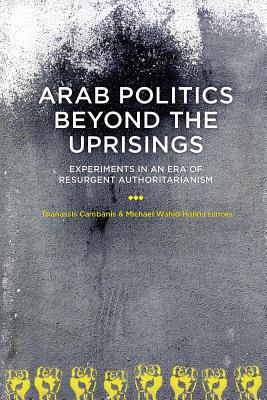 Our book is in print, available from the publisher beginning May 23. You can already order it from bookstores. We're very proud of this collaborative effort. It represents a lot of creative thinking about politics, and the ongoing efforts at change that have survived despite the short-term success of dictatorships. We describe the work on the back cover:
Political experimentation and invention survive in unlikely places years after resurgent authoritarianism interrupted the Arab revolts. Despite violent conflict and state repression, attempts to build new institutions and ideologies continue outside the confines of traditional opposition politics.

In this volume, established researchers, new scholars, and active participants explore political initiatives in other realms: media, artists' collectives, rebel enclaves, neighborhood councils, fledgling citizen campaigns, and elsewhere.

With rich ethnographic detail, these studies pay special attention to regional dynamics, cross-border learning, and the intellectual history of ideas central to the uprisings. They reveal an unresolved struggle between resilient authoritarian structures and alternative centers of political power.

Contributors include Nathan J. Brown, Benjamin Helfand, Monica Marks, Michael Stephens, Khaled Mansour, Sima Ghaddar, Karim Ennarah, Ursula Lindsey, Jonathan Guyer, Sultan Sooud Al Qassemi, Laura C. Dean, Marc Lynch, Samer Abboud, Yasser Munif, Aron Lund, Sam Heller, Cilja Harders, Dina Wahba, and Asya El-Meehy.
You can read my introduction to the book online. If you want to read it all, you can order online. Support local booksellers by ordering your copy via IndieBound. Or else, try Amazon or the publisher, Brookings.