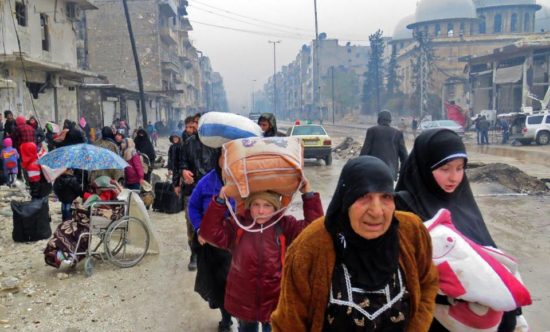 Syrian residents, fleeing violence elsewhere in Aleppo, arrive in the city's Fardos neighborhood Tuesday. STRINGER/AFP/GETTY IMAGES
[Published in The Boston Globe.]
As the last rebel neighborhoods in Aleppo fell this week, Samantha Power, America's ambassador to the United Nations, excoriated Russia, Syria, and Iran for authoring what will prove to be the signal atrocity of our time.
"Are you truly incapable of shame?" Power asked. "Is there no act of barbarism against civilians, no execution of a child that gets under your skin?"
Hundreds of thousands chose to stay in what they proudly called "Free Aleppo," eschewing safe routes when they still existed and vowing to preserve their alternative to Syrian President Bashar Assad even if it meant death.
This week, that horrific choice materialized. Assad's regime destroyed rebel Aleppo step by step, using Russian airpower; legions of militiamen from Afghanistan, Iraq, Yemen and Lebanon; and the barrel bomb, another of the war's sad innovations. Syrian rebels in Aleppo had warned for a year and a half that a siege was inevitable unless their backers, including the United States, provided them at least with air support and a steady supply of bullets and cash.
Western officials decried the unfolding tragedy in Aleppo, but their actions guaranteed this week's genocidal denouement. The United States withheld basic support to vetted rebels. Turkey diverted its proxies to deal with the Kurdish problem on the border. And the West continued to negotiate after Russia engaged in blatant subterfuge and spectacular war crimes, emboldening the scorched earth campaign in Aleppo.
Ambassador Power is right to ask about shame. Ultimately, a great share of it will belong to her government and the other fair-weather "friends of Syria" who supported the country's revolution only half-heartedly — enough to prolong it while also sealing its failure.
For a quarter-century, since the collapse of the Soviet Union, the international order trended toward more accountability and cooperation. Sure, international law is most often honored in the breach, and institutions like the International Criminal Court have no enforcement arm. But for a time, the international community was a meaningful forum with a conscience, and it created new doctrines like the "responsibility to protect," which held that any state that wantonly murders its citizens forsakes its sovereignty. New norms took root: War crimes still occurred but invited wider and wider condemnation, military interventions required legal justification, and humanitarian concerns achieved the status of core national interests.
Altruism and self-interest were crucially intertwined in doctrines that aimed to make the world a less cruel but also a more stable place. We opposed torture and war crimes elsewhere because they're dead wrong, but also because we don't want out own citizens subjected to them.
Today, an opposite calculus is in effect. We don't stand against the leveling of Aleppo because we reserve the right not to be judged for similar crimes. It will be difficult for America to invoke human rights as a cornerstone of foreign policy.
On a human level, Aleppo's fall is nearly unbearable. Citizens, volunteer doctors, children, and others are hunted from neighborhood to neighborhood in the city's shrinking Assad-free patch. Shells and bombs fall indiscriminately. Those who flee risk massacre by pro-government militias. If they make it to safety, they face torture or even death in Assad's gulag. We can hear their pride and desperation in videos, tweets, and phone calls, often broadcast live as the battle for Aleppo climaxes.
Many of us knew the end was coming, but when it finally did this week, it was a sucker punch to the gut. Even if we expected it, we hoped Aleppo would not finish this way.
While this personalized violence is horrifying, it is hardly unique to Aleppo. Yet this apex of expedient, Machiavellian criminality caps off a long period when norms have eroded and international law has been undermined by its most important sponsors. Everyone has a stake in the erasure of Aleppo — not just the trigger-pulling governments in Damascus, Tehran, and Moscow.
Aleppo has thrived for millennia and one day will recover as a city. The prognosis is not as good for the ideas we have cherished since World War II and which we hoped would prevent any repeats.
Syria's war will continue for some time — probably years. But barring a major and unexpected global shift, its outcome is no longer in doubt. Assad's government will stay in power, slowly re-extending its reach over the entire territory of Syria and cobbling together some new version of the terror-and-torture apparatus through which it coerced the compliance of its population until 2011.
We watched the block-by-block incineration of a free city. Its rubble will build the foundation of our century's pessimistic new world order.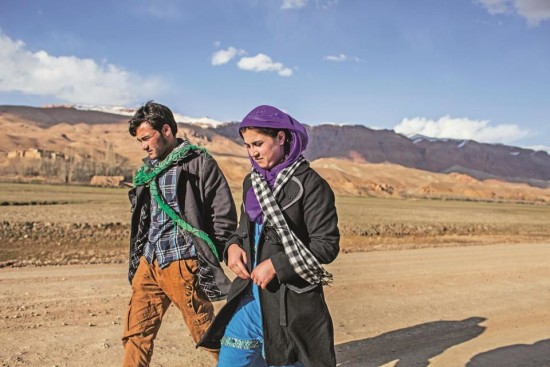 Zakia and Ali. Photo: DIEGO IBARRA SANCHEZ
[Book review in The Boston Globe.]
When news reached Kabul that a pair of teenagers was breaking every manner of taboo, determined to marry for love or else die in rural Bamian province, New York Times reporter Rod Nordland jumped. He had been looking for just such a story to illustrate Afghanistan's horrifying tradition of rape and "honor killings," as well as the courage of young people ready to challenge the old system.
Zakia and Ali had met as children — their families farmed neighboring plots — and decided when they came of age to defy their parents and marry. By the time Nordland meets them, Zakia is hiding in a women's shelter. Her family is threatening to kill her because she has tarnished their "honor.''
Their story makes sensational headlines about "Afghanistan's Romeo and Juliet," and Nordland doggedly sticks with the protagonists. The result is "The Lovers," a rich account of Zakia and Ali's romance that doubles as an indictment of the Afghan patriarchy's abuse of women and the failures of all those in power, inside and outside the country, to curtail it.
Nordland follows the couple's escape into the mountains, their marriage and honeymoon on the run, and the hair-raising manhunt that pits Zakia's relatives against the bride, groom, and his family. Along the way a circus of Afghan and US government officials and international gadflies try to shape the fate of Zakia and Ali.
Couples like Zakia and Ali usually pay for their daring with their lives. This exceptional pair, however, doubles down on their decision to marry by going public with their tale. Miraculously, they manage to avoid being killed, although their victory seems pyrrhic. Some young Afghans find solace in the couple's crusade, although we only learn of their social resonance in glancing references to their celebrity status.
What support the couple wins from local power brokers has more to do with ethnic and tribal loyalty than any major change of heart among patriarchal elders. Zakia and Ali enjoy what pass for moments of serenity on the lam from vengeful relatives, discovering that the married life for which they fought so gallantly includes long stretches of monotony and bickering.
For Americans contemplating their longest war, in Afghanistan, the campaign for women's rights was a potential bright spot. The 2001 invasion might have failed on most counts, mired in torture, warlordism, and corruption, but at least the appalling position of women was supposed to improve.
Nordland's "The Lovers" fatally complicates that optimistic narrative. In the 1980s, when Nordland first covered the conflict in Afghanistan, the United States supported mujahedeen whose main motivation to fight was to reverse the Soviets' emancipation of Afghan women. So it was rich with irony that after the United States staged its invasion, it pushed for a flurry of women's rights laws that improved things mainly on paper — and were undermined by the same warlords who owed their rise to American patronage.
To contextualize Ali and Zakia's romantic yarn, Nordland presents a tirade of stories of rape, murder, bribery, and cover-up. While this barrage of anecdotes enrages, it does not advance our understanding of the thinking of the men who run this brutal system. Nor does it explain how they secure the cooperation of their countrymen.
Ali and Zakia are simple characters, illiterate, uneducated, and young. Although they star in this account, we never fully understand why they took such a bold leap. The closest glimpse we get to their souls is through the poetic verses that Ali selects for his cellphone ringtone.
There's another story here, which Nordland shares with admirable candor and unflinching honesty, and that is of the unsatisfying, at times distressing, encounter between Afghans and the foreigners who have come to save, subjugate, or chronicle their country.
Almost from the first, Nordland dispenses with sanctimony. Journalists are supposed to maintain objectivity and avoid becoming part of the story. But in war zones, lines get blurred, and Nordland refuses to ignore his responsibility to be humane and help his subjects.
He gives Zakia and Ali money, lobbies for them with government officials, arranges a getaway car, and choreographs one abortive flight abroad.
The couple proves maddening and headstrong. They routinely ignore advice, dodge phone calls, and surface only when they need help or money. They might frustrate their allies, but Nordland respects their agency and independence of thought. They might not make the wisest choices, but the point is they act empowered in a society where few do.
The American government offers little aid, seeming reluctant to grant asylum to persecuted Afghans because it would undermine the line that Afghan women are better off since the Americans came.
All the more reason to chronicle this bittersweet, ambiguous love story. Zakia and Ali haven't changed the status of Afghan women, and Nordland's relentless reporting hasn't shifted US policy. But the very acts of successful resistance and honest storytelling provide much-needed seeds of hope.
THE LOVERS: Afghanistan's Romeo and Juliet, the True Story of How They Defied Their Families and Escaped an Honor Killing
By Rod Nordland
Ecco, 384 pp., $26.99
Thanassis Cambanis writes The Internationalist column for Globe Ideas and is a fellow at The Century Foundation in New York. His most recent book is "Once Upon a Revolution: An Egyptian Story.''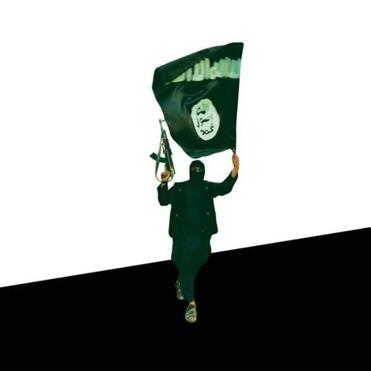 Getty Images/Globe Staff Photo Illustration
[Review of Joby Warrick's Black Flags: ISIS for The Boston Globe.]
As its name makes clear, the Islamic State is after something far more permanent than its nihilistic, destructive methods might suggest. Over the past few years the movement has come terrifyingly close, confidently deploying modern tools of warfare and propaganda to establish a blood-soaked caliphate whose barbarity feels prehistoric. In his new book "Black Flags: The Rise of ISIS," Washington Post reporter Joby Warrick sets out to explain how a motley group of criminals considered too unruly by Al Qaeda transformed into the world's most successful and savage jihadi group.
Warrick's account centers as much on American missteps as it does on the jihadi long game to build capacity. He telegraphs his disgust with ISIS without turning his book into a two-dimensional jeremiad and takes pains to include accounts of the group's thinking, evolution, and internal political disputes.
The Islamic State, better known here by the acronym, ISIS, swept into American consciousness about a year ago when it conquered northern Iraq and almost toppled the US-backed government in Baghdad. But ISIS didn't come out of nowhere. Inhabitants of the Arab heartland had followed the steady entrenchment of jihadi groups in the region.
Since Sept. 11, America's counter-terror establishment has been obsessed with kill lists, personalizing Al Qaeda and its offshoots as the fiefdoms of a few easily demonized leaders.
Meanwhile, in Iraq, Syria, and on computer screens around the world, a vast, well-funded network recruited legions of talented and capable individuals, learned from its setbacks, innovated, and built effective institutions to buttress a durable reign of horror.
"Black Flags" tries hard to explain how ISIS came of age and why so many supposedly moderate or conservative forces in the Arab world have been willing to stand with extremists.
Most bracing of all is Warrick's historically-grounded corrective, which blames the American invasion of Iraq in 2003 as the single most pivotal factor in the organization's creation.
Warrick spends plenty of time on a riveting and detailed biographical account of the man who founded the group that became ISIS, Abu Musab al Zarqawi, a Jordanian thug whose commitment to violent religious extremism was forged in jail. Blithe prison officials allowed jihadis free reign and then carelessly released them to curry political favor for the new king.
The US government made Zarqawi famous by naming him as the link between Saddam Hussein and Al Qaeda, part of the spurious grounds to justify the Iraqi invasion. America's mistakes were a bonanza for Zarqawi, who hired from the ranks of newly jobless soldiers and intelligence officials and capitalized on the disenfranchisement of Sunni tribes suddenly in need of a new protector.
Zarqawi reengineered the parameters of violence — no small feat in a neighborhood where despots like Saddam Hussein and the Assad dynasty in Syria already had spawned a vast torture complex. He personally beheaded civilians on video; directed suicide bombs at targets that other jihadis considered off limits like the UN, NGOs, and Arab embassies; and struck Shia religious targets with the ultimately successfully goal of provoking a destabilizing Sunni-Shia civil war. Even Al Qaeda thought he was going too far, Warrick notes, but Zarqawi's methods proved to have enduring traction long after his death in 2006.
His successors built ISIS into an organization determined to go much further than Al Qaeda and implement a brutal caliphate immediately. Today ISIS runs oil fields, banks, and a formidable military. The group's executions grab our attention, but ISIS applies equal zeal to tax collection, education, and indoctrination — all good reasons to suspect that it may remain part of the scene for years to come.
There are a few missing pieces in this otherwise fine book. Warrick neglects the rich context of torture, abuse, and extremism fed by Arab governments and international patrons, including the United States, in the decades before Al Qaeda and then ISIS came to maturity. He mentions but does not delve deeply into the widespread sympathy for hardline Islamist ideas among the Arabian peninsula monarchies and many supposedly mainstream Sunnis.
Also some big questions remain at the end of "Black Flags,'' including the mystery of the group's technical achievements. How did ISIS refine its training, military tactics, and administrative abilities so thoroughly that it could control a nation-sized swath of Syria and Iraq? Warrick's account fills in important conceptual blanks, but doesn't explain why this time around the same old cocktail of takfiri jihad, Gulf money, and impressionable testosterone-filled volunteers yielded an army and government-in-waiting more effective than any of its regional peers.
Overall, however, Warrick's book might be the most thorough and nuanced account of the birth and growth of ISIS published so far. "Black Flags'' is full of personalities, but it keeps its gaze carefully focused on the wider arc of history.
BLACK FLAGS: The Rise of ISIS
By Joby Warrick
Doubleday, 344 pp., illustrated, $28.95