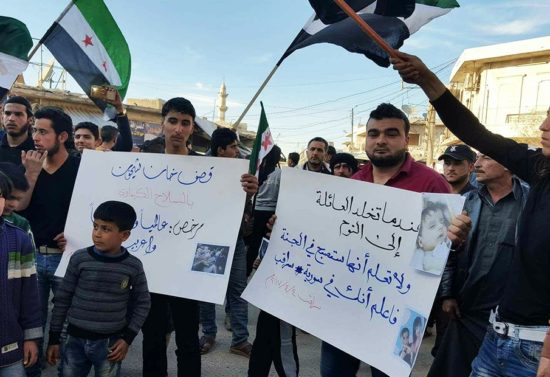 RESIDENTS IN SARAQIB, A CITY IN THE SYRIAN PROVINCE OF IDLIB, PROTEST THE CHEMICAL ATTACKS IN NEARBY KHAN SHEIKHOUN.
SOURCE: FACEBOOK/EDLIB MEDIA CENTER
[Published at The Century Foundation.]
The latest chemical weapon attack in Syria assaults the most foundational values of our international order just as surely as it shocks the conscience. The attack on Khan Sheikhoun on April 4 bears the hallmarks of previous regime attacks; it will take time to fully assess the evidence, but there is already a powerful body of evidence implicating Syria's government in the strike.
What does "never again" mean if one of the most closely watched dictators in the world can repeatedly get away with violating a global ban on chemical weapons in a scorched-earth campaign against the last holdouts resisting his abusive regime?
How are we in the future to rely on the delicate web of international institutions erected after World War II, on matters of core concern to humanity (and for that matter, to U.S. interests), if we allow those institutions to be gutted by a coalition of autocrats willing to brazenly test the resolve of a Western-dominated international order?
There are plenty of painful matters to unpack as a result of the apparent regime attack on Khan Sheikhoun, which will take its place in the long catalogue of horrors that is Syria's civil war.
Some questions concern Syria, and its likely future under Bashar al-Assad, the country's newly confident hereditary ruler. What kind of daily atrocities can Syrians expect from a ruler who, as he arcs toward victory, demonstrates such rapacious thirst not for reconciliation but for vengeance against civilians?
Other questions affect the entire global community of nations: What meaning remains in international humanitarian law—the laws of war—that are supposed to govern what weapons belligerents can use, how they choose their targets, and how they can treat their  prisoners of war? Such laws are often observed in the breach, but we are testing the limits of how often war crimes can be committed without rendering the whole concept terminally abstract.
After World War II, even powerful nations understood they had a stake in limiting the horror of total war; after all, they had all just experienced its extremes—and most understood they had committed some atrocities as well as suffering at enemy hands. The Geneva Conventions of 1864 were the first laws governing warfare, but international momentum really coalesced with the Geneva Conventions of 1949. From this shared understanding—and not from some spirit of altruism—were born a new set of norms: No genocide, no chemical weapons, no torture of prisoners of war, no completely indiscriminate bombing.
Of course, since the end of World War II, these norms have been tested and transgressed, at times by the United States. But the mutual agreements survive because they have given rise to an extensive web of laws, treaties, and institutions, and because even powerful nations that occasionally abuse those laws tend to do so while claiming to uphold them—a surprisingly effective way of propping up even a partially observed norm.
Tests of international will took on a new and more toxic form in Syria's civil war. Assad's use of chemical weapons ultimately strengthened his regime's standing rather than turning it into a pariah. His temerity and the feckless international response, together, strike a body blow against an international consensus that was already weakened by the excesses of the American-led global war on terror after 9/11.
The first step came in August 2013, when Assad killed more than a thousand civilians in a nerve gas strike on the Damascus suburbs. It was the one move that risked punitive strikes against the regime, or potentially more broadly, bringing the United States fully into the war on the side of the rebels. Assad risked it anyway. American airstrikes on Damascus appeared imminent until a surprise eleventh-hour agreement was reached to dismantle Syria's entire chemical weapons stockpile. Russia and the United States brokered the deal, and the Organisation for the Prohibition of Chemical Weapons (one of those all-important international organizations upon which we depend for what rule of law persists in the global order) oversaw its implementation.
But the deal faltered after the first year, in a painfully chronicled failure. In documented attacks since 2013 it appears that Assad's forces have used chlorine, which is not listed in the Chemical Weapons Convention. If sarin or a similar nerve agent was used in the Khan Sheikhoun attack, it would represent a significant shift.
Today, American foreign policy aims for transactional, whitewashing failed governance and human rights abuses if dictators are willing to cooperate on counterterrorism.
The strike in Khan Sheikhoun, if it is eventually proven to be a regime act, will mark the second brazen contravention of international norms—and this time, it comes at a moment when Bashar al-Assad already appears on the cusp of obtaining most of what he seeks from his erstwhile enemies, potentially prevailing against long odds. Why risk that imminent victory and possibly turn a President Trump who appears predisposed to deal with Damascus against Assad?
We might never know the motive for the gas attack, but its impact will be clear. The countries that have voiced opposition to Assad will now have to consider whether to match actions to their words. And Russia and China, the most powerful countries that sympathize with the transactional dog-eat-dog view of international relations, will have to decide whether to exercise their United Nations Security Council vetoes to limit any response to Khan Sheikhoun.
Unless the unlikely occurs and a sizable portion of the international community stands against the outrage, we'll be another step closer to an international order without order, a world of war where there's no longer any such thing as a war crime.